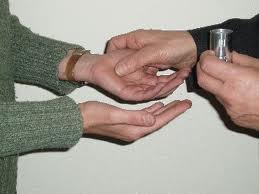 THE MEANING OF THE SACRAMENT OF THE SICK
The sacrament of anointing of the sick is in effect for comfort, and assist the patient. The first grace of this sacrament is the special gift of the Holy Spirit. By the administration of the sacrament of anointing of the sick, the patient finds the assistance of the Lord pours on him the power of the Holy Spirit. The Holy Spirit awakens in him the confidence and faith in God; it strengthens against the temptations of the evil inclination such despondency and anguish of death. Against these temptations, the Holy Spirit reassures and gives him the comfort of grace, peace and courage. Another effect of this sacrament is union with Christ's passion. Through the sacrament of the anointing, the patient took his suffering as a participation in the redemptive work of Jesus. This sacrament gives him the strength to come closer to the passion of Christ. The anointing of the sick is given to all those affected by serious diseases here, but especially to all patients who are at the end of their lives.
ON THE WEB
INFORMATION
If someone wishes to live for himself or a close one the sacrament of the sick, he can contact us at 450-834-2323.