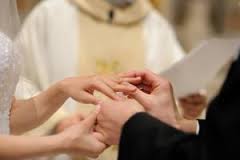 THE MEANING OF THE SACRAMENT OF MARRIAGE
The sacrament of marriage means the union of Christ and the Church. It gives spouses the grace to love the love with which Christ loved his church. The grace that gives the sacrament of Matrimony is intended to perfect the love of the spouses, to strengthen their indissoluble unity. According to Lumen Gentium No. 41, for this grace, "they help each other to holiness in their married life in the care and education of children." Some requirements are related to marital love: unity and indissolubility of marriage, fidelity of conjugal love and openness to fertility. The spouses are called to unity and to keep their indissoluble conjugal bond. The unity and indissolubility are capital requirements related to the nature of marriage. "So they are no longer two, but one flesh" (Matthew 19.6). Conjugal love also requires spouses inviolable fidelity. God's faithfulness to his covenant of Christ to the Church justify a fortiori the call to the fidelity of the spouses in conjugal love.
ON THE WEB
INFORMATION
To celabrate your wedding at the church of Rawdon, contact us at 450-834-2323.