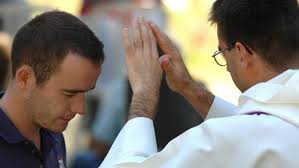 THE MEANING OF THE SACRAMENT OF PENANCE AND RECONCILIATION
This sacrament is known by many names including: conversion sacrament, the sacrament of confession, the sacrament of penance, forgiveness sacrament, sacrament of reconciliation. The sacrament of penance and reconciliation is restoring baptized poeple in the state of grace. The purpose and effect of this sacrament is the reconciliation with God. This sacrament gives us to reconcile us to God. He acquired us back the dignity of children of God once lost and takes us back to the friendship of God. The sacrament of penance also reconciles us with the Church. Sin chips the christian communion. The sacrament of Penance repairs or restores the life of the community.
A person who wants to celebrate the sacrament of forgiveness can make the request to the priest.
Youth or adults walking towards communion are also prepared to live the sacrament of forgiveness.
Preparing young people - with their families - to the sacrament of forgiveness take place on Sunday morning in our church.
INFORMATION
Church Rawdon: 450-834-2323
ON THE WEB